Pot-cooked rich "caponata" with Galletto Vallespluga on honey and turmeric sauce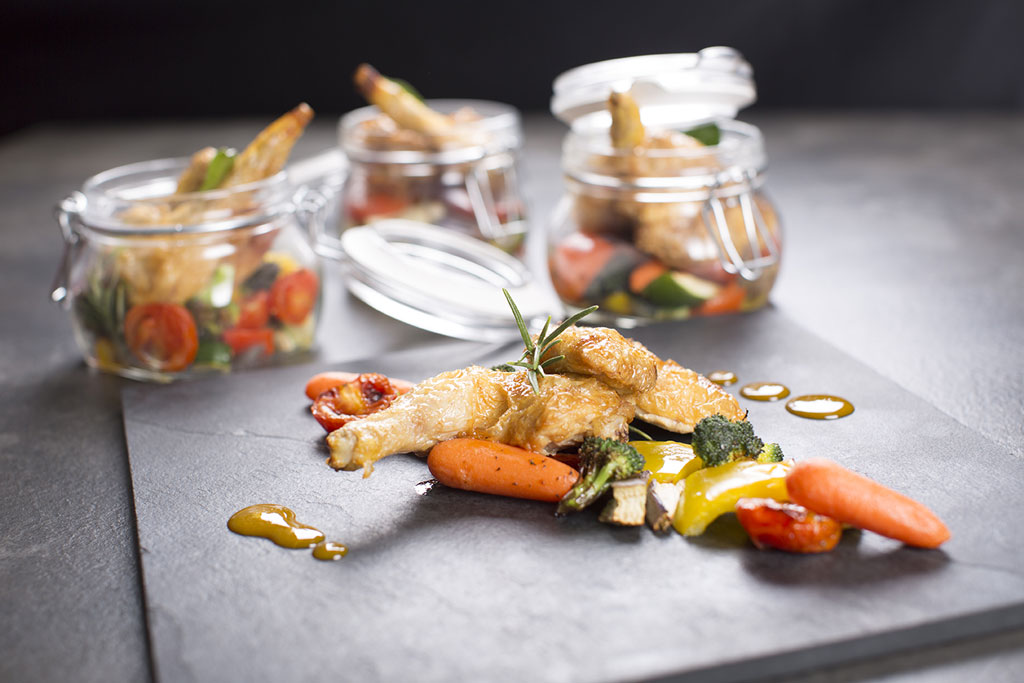 Level
Cooking time
15-17 minutes
Preparation time
20-25 minutes
Ingredients
2 Galletto Vallespluga 600g eacg
200g cherry tomatoes
100g yellow peppers
100g red peppers
200g zucchini
200g eggplants
200g broccoli
200g carrots
1 clove of garlic
10g turmeric
50g honey
Coarse salt
Salt, pepper to taste
Extra-virgin olive oil
Rosemary
Basil
Parsley
4 cooking cans (0.5l each)
Procedure
Clean and peel the vegetables then cut them into pieces of about 1cm per side and arrange them on the bottom of the jars, overlapping them alternately. Season with coarse salt.
Divide a clove of garlic into four parts, taking care to remove the core, place one piece per jar.
Carefully bone the Galletti Vallespluga breasts and thighs, season with oil, salt, pepper and herbs and arrange them inside the jars, on the top of the veggies.
Close the jars tightly and place them in a preheated oven at 200° C for 15-17 minutes. Once cooked, serve as desired or directly in the jar (Warn your guests not to touch the heated glass!).
Finally, prepare the accompanying sauce: use two tablespoons of the vegetables to cook and heat them with honey and turmeric. Cook until a homogeneous sauce is obtained.
Note: The jars of cooked "caponata" can be removed from the oven, cooled in cold water and stored in the refrigerator, tightly sealed, for about 15 days.